August 19, 2010
Announcements
Montclair Presbyterian Church…
The Community Organizes and
Orders Its Life Through the Flow of Information
August 18, 2010
In the coming weeks GUEST PREACHERS: Aug. 22: Rev. Kathy Ray. Aug. 29: Jenny Warner. Sep. 5: Rev. Kathy Ray. Sept.12: Leonard Nielson. Sept. 19: Rebecca Herrero. Sept. 26: Mark Smith. Oct. 3: Youth Group Mission Trip report.
CHILDREN'S SUMMER CHURCH SCHOOL. All children begin in celebration and then go to one combined class in room 4. This is the schedule through the month of August.
SUSAN HUNN will be away for vacation and other time off from Aug. 13 to Aug. 31.
YOUTH GROUP resumes on Kick-off Sunday, Sept. 19.
Leonard's ordination! : Leonard Nielson is being ordained here at MPC on the afternoon of October 17.  Mark your calendar now.  We will be celebrating in the Family Room after the official service. Debbie Fallehy will be coordinating the refreshments & would prefer monetary contributions to be used toward the purchase of the food (please mark checks "Reception Food").  Just think, you won't have to cook, but if you'd rather, plated food donations will also be graciously accepted.  Questions – please contact Christine Peterson or Debbie Fallehy.
On August 15 Rev. Mark Smith and Leonard Nielson co-led the service, with Leonard preaching and Mark leading worship and liturgy,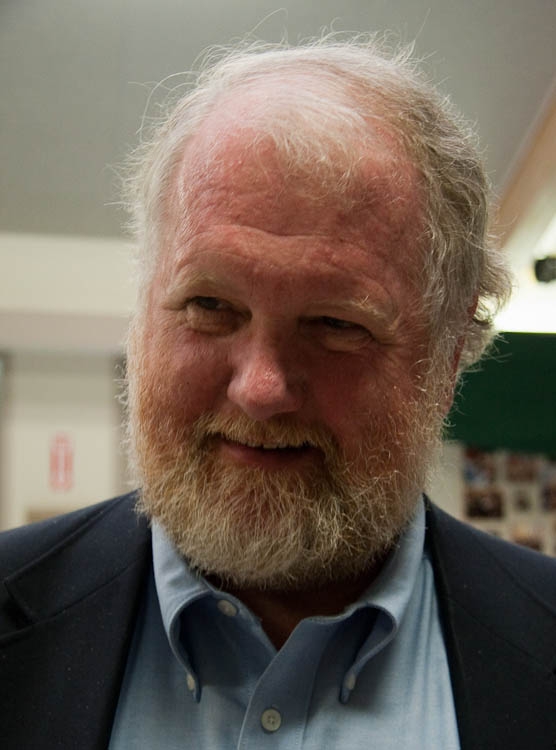 Leonard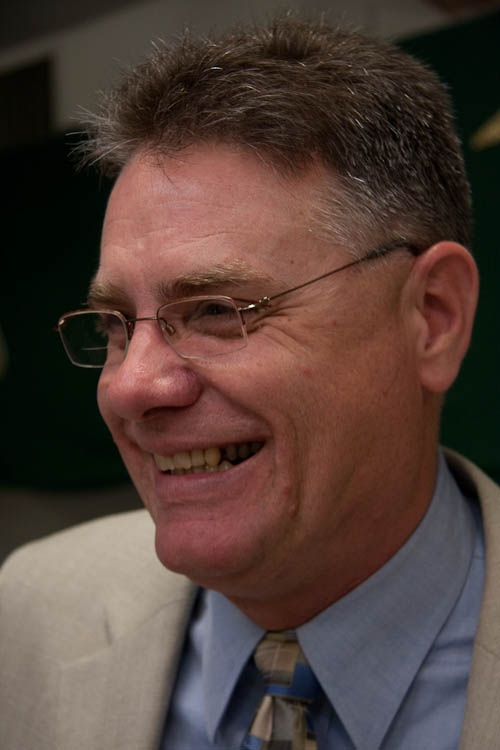 Mark
September 2 we welcome new Staff member Talitha Phillips: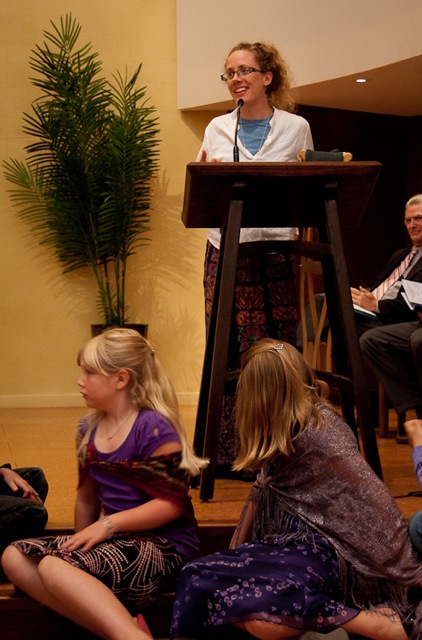 Photos by Lee Aurich

Please join us! This fall's MPC Woman's Retreat will be located at the beautiful Santa Sabina Retreat Center in San Rafael, from Friday evening, October 1, to lunch on Sunday the 3rd. With an overall theme of "Hold On To What Is Good," sessions will touch on spiritual, community, and personal growth, with plenty of free time for building friendships, making art, hiking/stretching/being active, and private reflection and meditation. Sign ups will be in the family room after Sunday services now through September 12. We are limited to 40 participants – please sign up soon to reserve your space. Gretchen Garlinghouse and Francie Chan, Co-chairs
View Karen's Photo Book online: You may view the proof copy of Karen's Photo Book online at http://bit.ly/d1Ubk7 it does take a while for this to load; click the link and then go get a cup of coffee.
Gifts for Rebecca and Leonard: Rebecca is retiring, and Leonard is being ordained. Both of these are a chance for us to let them know how much they mean to us.  If you would like to contribute toward gifts toward either or both of them, please send your check to the office, marked "gift for Rebecca", or "gift for Leonard".
ALL IN THE FAMILY
Please keep Karen Ray Gibson and her family in your prayers. Her mother passed August 13, 2010 from Stage 4 Lung Cancer.
ADULT EDUCATION
Bible Study will meet next Wednesday from1:00PM to 2:30PM. Please join us.
PACE E BENE ALL-DAY WORKSHOP SATURDAY, OCTOBER 16.  SAVE THE DATE!
Pace e Bene Nonviolence Training Service has provided excellent programs at MPC for the last three years.  In the fall of 2007 and 2008 we were privileged to have the twelve week course called "Engage." Exploring Non-violent Living," and in 2009, an all-day workshop called  "Soulforce."
This year we will be offering an ALL-DAY WORKSHOP ON SATURDAY, OCTOBER 16, 10-4, in the Thornhill Room, called "ENGAGING CONFLICTS CREATIVELY."  This is an area of interest in which people from the former courses wanted more depth.  The Peacemakers Committee is delighted to bring this opportunity for enrichment.  If you are new to Pace e Bene training, this would be a great introduction to the work we are doing.
This  workshop will provide tools, new lenses and concrete practices for transforming conflict in our lives, our communities and our world.  It will integrate:
Practical steps for understanding conflict
Investigating the terrain that underlies conflict, including emotions and power
The possibility of creating rich relationships in the midst of conflict, and
Constructive responses and options for transforming conflict
This workshop will be grounded in the vision and practice of Soulforce, which Gandhi called "the force which is born of truth and love, or nonviolence."  Together we will explore conflict transformation through a selection of stories, videos, role-plays, small and large group discussions, rituals and processes that activate and integrate heart, body, mind and spirit. We are pleased to have KEN PRESTON and PATTY ROBERTSON, whom we've grown to love, as our leaders for the day. Final sign-ups for this will be held in September through our Adult Education Program. The cost will be $30, with lunch provided for an additional $5.  For more information or to register your interest, contact Mary Smith at smithmcam@yahoo.com or (925) 943-4986.
COMMITTEE ANNOUNCEMENTS
We need several more volunteers to help with the Children's Food Basket project as either packers or drivers.  If you would be able to devote one afternoon a month to either of these activities please contact Jan Stites at scribes@aol.com , 339-3454 or Ruthann Taylor at clydetaylr@att.net, 527-0673.
FOOD SOVEREIGNTY FOR HAITI: In the wake of the earthquake disaster, U.S. interests are attempting to unload  poison-laden seed rice in Haiti. Joining Hands is planning a letter-writing opportunity this Sunday after Celebration. Look for the table in the family hour. This will be an ongoing campaign and anyone who would like to contribute further is invited to contact Brad Hestir or Jean Norris.
SUMMER OPEN MIC BRUNCH Writings are being collected for this year's anthology, Lives I Progress, 2010. The NEW DEADLINE FOR SUBMISSIONS IS SUNDAY, AUGUST 29 (same date as our Open Mic Brunch). Any writings shared in 2010 or after October of last year may be submitted.  Included are pieces from Open Mics, ongoing writing groups, Faith Journeys, Works in Progress and children's writings or drawings.  Please submit on white 8 ½ x 11" paper, black & white, one side only, adequate margins, copy-ready, with a title and your name. Mail or give to Margaret Irvin 510-243-1114 or e-mail to Jan Stites. A Storytellers project.
Come one, come all to the MPC Fall Kick-off celebration on Sunday, September 19 following Celebration.  Again, we will gather for a pot-luck luncheon.  With good food & great conversation it's a casual, yet meaningful way to start our new program year.  Everyone is asked to bring a pot-luck dish to serve 8-10 people. This year's kick-off has an Asian theme, so if you are adventurous in the kitchen, please consider bringing an Asian inspired hot or cold dish.  Beverage & dessert will be provided. Hope to see you there.  Questions – contact Debbie Fallehy, Welcome & Family Life Committee
SAVE THE STORYTELLERS' DATES: Open Mic Brunch. Sunday, August 29, 11:30 am, Thornhill Room.  Works in Progress Program. Friday, Sept. 17, 7:30 pm, Thornhill Room.
EAT REAL FESTIVAL : Jack London Square, Oakland, will host an EAT REAL Festival on August 27-29. Today's eaters are concerned about how to spend their food dollars yet want to learn how food choices can contribute to a healthier environment and stronger communities. By using fresh and local ingredients (and their amazing flavors), EAT REAL aims to show how we can support a regional food system by bringing farmers, food producers and eaters together. The hours are  Aug 27th, 2pm-9pm, Aug 28th, 10:30am-9pm, and Aug 29th, 10:30am-5pm.  To learn more, go to eatrealfest.com.
MORE ALL IN THE FAMILY …
SURPRISE I'M STILL HERE! Living with Incurable Cancer, Just published by MPC member Jane Rubey. Order online or visit your local bookstore.
CONTACT summer schedule. Contact will be published semi-monthly. Regular schedule will resume
September 7, 2010.
MPC Calendar:
http://www.mpcfamily.org/CalendarPrelim.htm
Blessings,
Christine Stickever- Peterson
Associate in Communications and Logistics
Montclair Presbyterian Church
5701 Thornhill Drive
Oakland, California 94611
510/339-1131
—————————————————-
—————————————————-
MONTCLAIR PRESBYTERIAN   CHURCH
Office Hours:  Tuesday – Friday, 9:00AM-4:00PM
Leonard Nielson, Interim Head of Staff: Office hours Tuesday 9-4:00, other times by appt.
Susan Hunn, Associate for Children & Youth: Office hours Tues-Thurs 9:30-2:30 pm
Christine Stickever- Peterson, Associate in Communications & Logistics: Office hours Tues. – Friday 9:00-4:00pm
Rebecca Herrero, Associate in Life & Programs: Office hrs Tues/Thurs 1:00-3:00 pm
Kim Rankin, Associate in Music
Marcia Roy, Organist
Gil & Maria Chiguila, Caretakers
Rev. John Hadsell, Theologian in Residence
Rev. Kathy Ray, Parish Associate
————————————————————–