February 9, 2011
Dear Friends,
After our Congregational Meeting last Sunday, I was feeling incredibly grateful for the "conversation" we were able to have after we elected our new slate of Elders (Rob Elia, Leslie Louie, Carrie McKiernan, Brant Nicholas, Bob Saltz) and then heard about our internal audit.  My experience of the conversation was that we were honest, open, and were able to share back and forth.  Some of you asked questions that many people have been thinking about and it's always good to be able to voice those things that might be worrying us.  Thank you to those who attended and we missed those of you who were unable to attend.
When I left church I went to spend some time with Doris Herrick.  She was unresponsive as she had been for a few days so I sat with her and thanked her for who she was and for all she has given to the MPC community over the years.  As I finished thanking her I wished her peace for her journey.  Doris' son Colin phoned me just as I was beginning to write this and told me that Doris died early this morning.  Doris will certainly be missed by her family and by all of us.
Sometimes life really does seem like a roller coaster where one minute you are laughing and having great fun and the next minute you feel like losing your lunch because of the force of something that happened.  Sunday and Monday were like that for me.  Sunday was fabulous and I enjoyed every minute of being with you.  Sunday evening I heard from my sister-in-law that my brother is spiraling downward in his addictions and she is reaching out to our family for help after many years of silence.  Monday morning we received a phone call that one of Anna's close guy friends had been killed instantly in an auto accident on Sunday evening.  Monday evening I went with one of our "adopted" daughters (we have 3 young women besides our own daughters that we call "daughters" because of how long we have known them and their close relationships with our daughters) to confront her single mother about her drinking problem.
From one minute to the next, we do not know what life will bring.  The only constant is the belief and experience that God is with us in and through all of it.  It's not God the magician, not God the instant healer, not God the fairy godmother, but God the compassionate presence who walks with us and holds us, figuratively speaking.  I don't know about you, but sometimes that's what keeps me putting one foot in front of the other on days when life feels overwhelming.
On another note:  I have good news of great joy to share with you!  After receiving 70 applications for our Administrative Assistant position, the Personnel Committee narrowed the field to 3 candidates.  The 3 candidates were given a computer test as the initial phase of the interview process.  Only one candidate made it to the final interview stage.  We are pleased to announce that we have offered our regular position to Sherrill Figuera who has been serving as our temporary Admin. Assistant.  We are very excited to have Sherrill join our wonderful Montclair church family.  Welcome, Sherrill!
Each week I am having more difficulty responding to all of the emails I receive.  If you email me and don't hear back right away or within a couple of days, don't worry!  Monday, Tuesday and Wednesday are usually very long and very tightly scheduled days.  Often, I will go back over my emails for the week on Thursday.  If a whole week goes by and you don't hear back from me on something that requires a response, then by all means send it again!  Thank you for your patience.
Don't forget to invite people you know to come and experience this fabulous community,
Beth
YOU ARE INVITED TO ATTEND A CELEBRATION OF LIFE FOR DORIS HERRICK ON SUNDAY, FEBRUARY 20TH AT 3:00 PM IN THE SANCTUARY.  THERE WILL BE A RECEPTION IMMEDIATELY FOLLOWING IN THE FAMILY ROOM.
PLEASE NOTE: All announcements for  Contact  should be sent to Sherrill at office@mpcfamily.org not mpc-family@mpcfamily.org.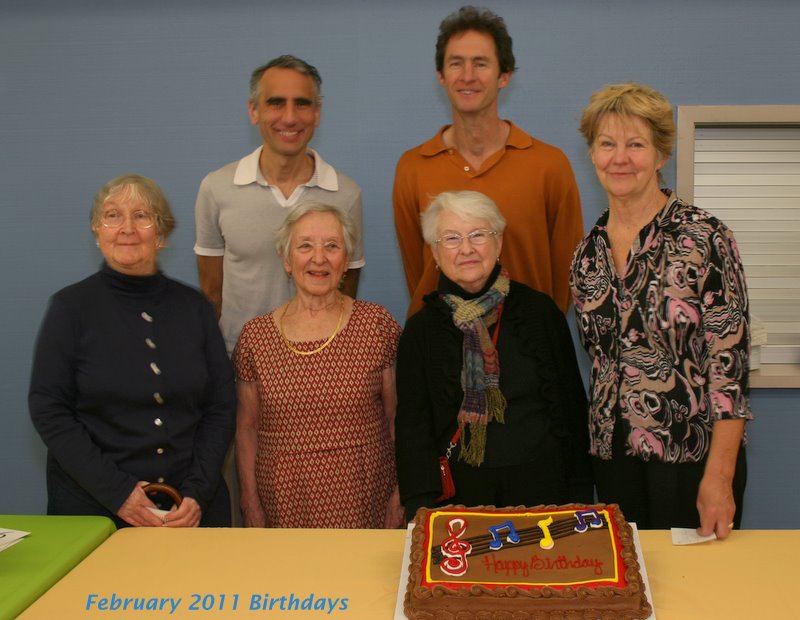 Front Row from Left: Mary Stewart, Minda Lucero, Ellie Sutter, Diane Hall
Back Row from Left: Rob Elia, Dave Miller
COME ONE COME ALL TO AN EXCITING ART GANG EVENT: A display called, "Pulp Fashion," consisting of elaborate, realistic costumes from the Medicis to Coco Chanel made only of painted, folded paper will be at the Legion of Honor in San Francisco on Saturday, Feb. 12, 2011. Carpool from MPC lot 9 a.m. sharp. Members free; nonmembers pay admission. Lunch will be at the museum. If you're going, please call Carol Wolleson, 658-6655.
BOOK DEPOT NEWS: This Sunday, FEBRUARY 13, the Book Depot will have a sale, where you can make some GOOD selections for fairly low prices. We're trying to make room for more new books. On the table we will have only the books that are for sale, except for a few available for Adult Ed classes. However, if you wish to purchase a book that does not have a reduced price, they will be in the book shelves and definitely available. Stop by to see what we have.
FAITH TRIO INVITATION TO COLLEGE-AGE & GRAD YOUTH: A 3 WEEK, ACCREDITED STUDY TRIP TO ISRAEL/PALESTINE THIS SUMMER.
Beyond Bridges: Israel-Palestine (BB:IP) is seeking motivated student leaders for this one-of-a-kind summer program, which takes undergraduate/graduate students of all backgrounds to Israel and Palestine for a three-week study course. Run through the University of San Francisco (USF), this accredited program challenges its participants to see the Israeli-Palestinian conflict from different angles, engaging narratives often absent or underrepresented in mainstream discourse. Based in Jerusalem, students meet with scholars and activists while traveling to Haifa, Bethlehem, Tel Aviv, Hebron, and beyond. From visits to Israel's Independence Hall to Palestine's Muqata'a, from meetings with Jewish Israeli settlers to Palestinian refugees, this summer program is extraordinary.
Sponsored by Abraham's Vision, 270 Chestnut St., Ste. 202, Redwood City, CA 94063. Contact: Megan Martin: Megan@abrahamsvision.org or phone 415-867-4932
HEAR YE HEAR YE: "Thank you for the calls, cards and well wishes. My right ankle is starting to heal very well. You made it feel much better".  Lucille Herrick
DEADLINES: To submit announcements for the bulletin and Contact, please send them to office@mpcfamily.org.  The deadline for Contact is Tuesdays at 3 pm and the deadline for the bulletin is Wednesdays at 12 pm. This is a change for all of us, so let's try to remind each other!
MPC Calendar:
http://www.mpcfamily.org/getting-involved/calendar/
—————————————————-
—————————————————-
MONTCLAIR PRESBYTERIAN   CHURCH
Office Hours: Monday – Friday, 9:00am-3:30pm
Rev. Beth Buckingham-Brown, Office hours Monday-Wednesday, 10:00-3:00 pm
Susan Hunn, Associate for Children & Youth: Office hours, Tuesday-Thursday, 9:30-2:30 pm
Sherrill Figuera: Administrative Assistant: Office hours: Tuesday-Friday, 9:00-3:30 pm
Talitha Phillips: Coordinator for Children and Youth
Kim Rankin: Associate in Music
Marcia Roy: Organist
Gil & Maria Chiguila: Caretakers
Rev. John Hadsell: Theologian in Residence
Rev. Kathy Ray: Parish Associate